Introduction to Pumps
One of the first pieces of powered machinery to be invented at the dawn of the industrial age was a crude form of pump. The pump has since evolved into an endless variety of types, sizes, and applications. This article will give an overview of the general types of pumps that are in common use in process plants. A functional understanding of pumps, their use, and application, is essential to understand how most processes are handled in process plants today.
Introduction
Pump is a machine or mechanical equipment which is required to lift liquid from low level to high level or to flow liquid from low pressure area to high pressure area or as a booster in a piping network system.
Principally, pump converts mechanical energy of motor into fluid flow energy.
Pump also can be used in process operations that requires a high hydraulic pressure. This can be seen in heavy duty equipment's. Often heavy duty equipment's requires a high discharge pressure and a low suction pressure. Due to low pressure at suction side of pump, fluid will lift from certain depth, whereas due to high pressure at discharge side of pump, it will push fluid to lift until reach desired height.
Classification of Pumps
Pumps may be classified on the basis of the applications they serve, the materials from
which they are constructed, the liquids they handle, and even their orientation in space.
All such classifications, however, are limited in scope and tend to substantially overlap
each other. A more basic system of pump classification is based on the principle by which energy is added to the fluid. Under this system, all pump types generally fall into two main categories –
Dynamic (Centrifugal) Pumps – Energy is continuously added to increase the fluid velocities within the machine.
Positive Displacement Pumps – Energy is periodically added by application of force to one or more movable boundaries of enclosed, fluid-containing volumes.
These are further divided into many forms. For simplification of article we will discuss these many forms separately in separate articles.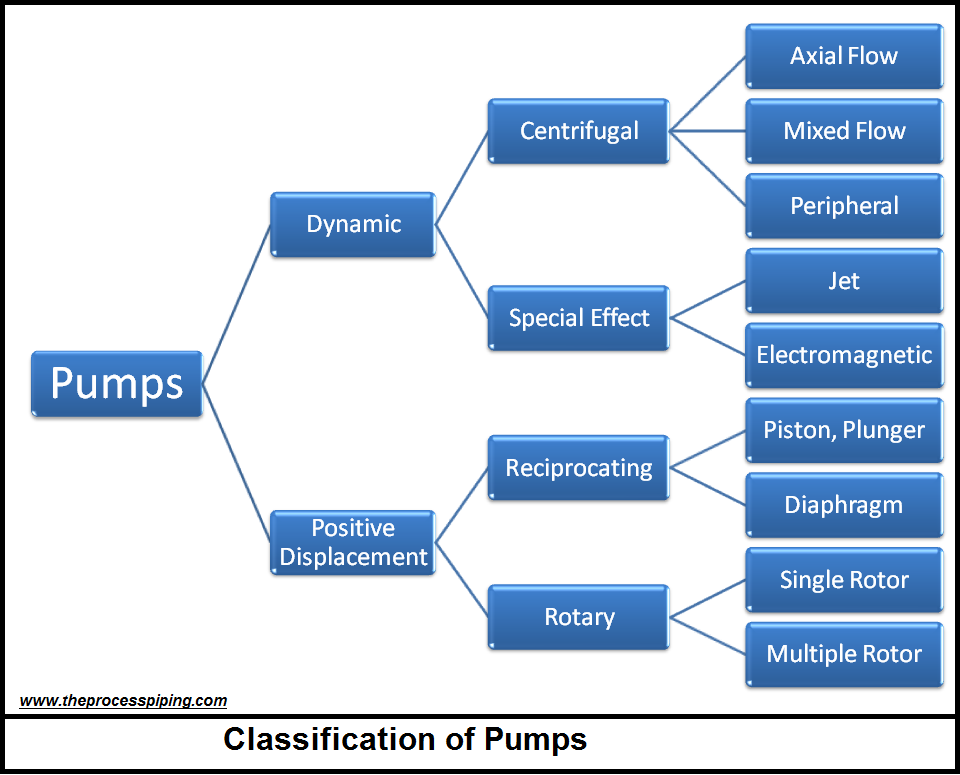 Dynamic (Centrifugal) Pump
Dynamic pumps uses centrifugal force to develop velocity in the liquid being handled. The velocity is then converted to pressure. As kinetic energy is decreased, pressure is increased. This pressure difference drives the fluid through the system or plant.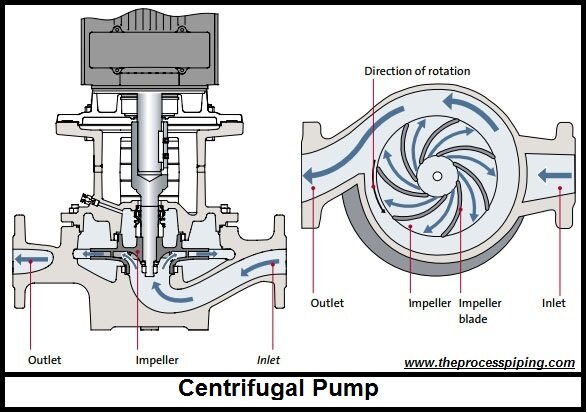 Dynamic (Centrifugal) pumps use a rotating impeller to create a vacuum in order to move fluid. The pump's impeller rotates within the housing and reduces pressure at the inlet. This motion then drives fluid to the outside of the pump's housing, which increases the pressure enough to send it out the discharge.
Dynamic (Centrifugal) pumps are the most common pump type for the transfer of low viscosity fluids in high flow rate, low pressure installations, which makes them ideal for applications that require the pump to deal with large volumes. The centrifugal pump design is often associated with the transfer of water, but is also a popular solution for handling thin fuels and chemicals.
Dynamic (Centrifugal) pumps benefit from a simple design with few moving parts, resulting in lower maintenance requirements and costs. This makes them suited to applications where the pump is used often or is even continuously run.
Positive Displacement Pump
Positive displacement pumps use the reciprocating motion of pistons, plungers, or diaphragms to move the liquid through the pump. The discharge from reciprocating pumps is in pulses rather than a smooth flow of liquid.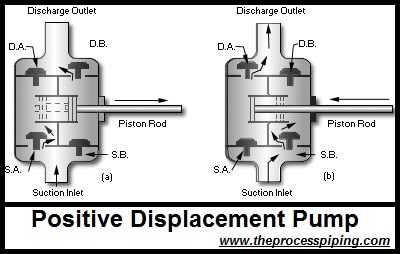 Positive displacement pumps are characterized by an operation that moves fluid by trapping a fixed volume, usually in a cavity, and then forces that trapped fluid into the discharge pipe.
Positive displacement pumps are usually selected for their ability to handle high viscosity fluids at high pressures and relatively low flows as their efficiency isn't affected by pressure. Whilst centrifugal pumps are the most common type of pump installed due to their simplicity, positive displacement pumps are a solution that can handle more difficult conditions where centrifugal pumps may fail, thanks to their ability to be run at any point on their curve.
Positive displacement pumps are able to handle variations in pressure, flow and viscosity and remain efficient, unlike centrifugal pumps which do not operate well off the center of their curve. As their flow rate remains constant (proportional to the speed of operation), smooth and low pulsating despite changes in the pressure, positive displacement pumps such as peristaltic, piston and diaphragm pumps are ideal solutions for dosing applications as it allows accurate metering to be carried out.
Difference between Dynamic and Positive Displacement Pumps
| Factor | Dynamic (Centrifugal) Pump | Positive Displacement Pump |
| --- | --- | --- |
| Mechanics | Impellers pass on velocity from the motor to the liquid which helps move the fluid to the discharge port (produces flow by creating pressure). | Traps confined amounts of liquid and forces it from the suction to the discharge port (produces pressure by creating flow). |
| Performance | Flow rate varies with a change in pressure. | Flow rate remains constant with a change in pressure. |
| Viscosity | Flow rate rapidly decreases with increasing viscosity, even any moderate thickness, due to frictional losses inside the pump. | Due to the internal clearances high viscosities are handled easily and flow rate increases with increasing viscosity. |
| Efficiency | Efficiency peaks at a specific pressure; any variations decrease efficiency dramatically. Does not operate well when run off the middle of the curve; can cause damage and cavitation. | Efficiency is less affected by pressure, but if anything tends to increase as pressure increases. Can be run at any point on their curve without damage or efficiency loss. |
| Suction Lift | Standard models cannot create suction lift, although self-priming designs are available and manometric suction lift is possible through a non return valve on the suction line. | Create a vacuum on the inlet side, making them capable of creating suction lift. |
| Shearing | High speed motor leads to shearing of liquids. Not good for shear sensitive mediums. | Low internal velocity means little shear is applied to the pumped medium. Ideal for shear sensitive fluids. |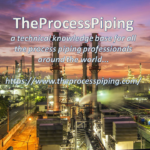 a technical knowledge base for all the process piping professionals around the world…