Overview to Piping Engineering
Piping systems in a chemical plant (refineries, petrochemical plant, fertilizer plant, gas plant etc.) are comparable to the arteries and vanes through which fluid, vapors, slurries, solids etc. flow under various conditions as imposed by the process design of the plant. Piping network is subjected to almost all the severest conditions of the plant such as high temperature, pressure, flow and combination of these. In addition to the above, corrosion, erosion, toxic conditions and radioactivity add to more problems and difficulties in piping design. With the advancement of process design and technological development, a continuous effort is required to be carried on to cope up with the demands of process. This makes the job of a piping engineer more complex and responsible.
In almost all chemical industries, the installed capital cost of piping is major factor in plant investment. As far as material procurement is concerned, excluding equipment costs, piping is the largest plant cost component (Figure 1). It is also observed that piping exceed all other field costs by a substantial amount (Figure 2). Also design engineering utilize approximately 45% of engineering man-hours and 50% of these man-hours are used in piping design.
Figure 1
Typical Material Cost


Figure 2
Typical Site Labor Cost

Knowledge Expectation from Piping Engineer
Piping Engineer requires not only wide engineering knowledge but he must also have an understanding of engineering economics and costs, of material metallurgy, of methods of fabrication and erection. He must have some knowledge of mechanical, chemical, civil, electrical and instrumentation engineering so as to discuss and understand requirements and problems with engineers in these fields. He must be aware of various standards, codes and practices.
Piping Engineer must have sufficient broad knowledge to know that certain conditions can arise at the early stages of plant design, where lack of awareness can cause difficulties, revisions and unnecessary delay. A fairly good knowledge of loads and stresses is a must. Piping, in operation, is always in movement and subject to pressure and forces with consequent reactions on equipment's such as pumps, compressor, turbines, vessels, columns etc. Lack of knowledge can cause errors sufficient for equipment over-stress and failure. Piping engineer should be well conversant with drafting procedures and practices. Now a days drafting is mainly taken care by computer aided design software's. But basic knowledge is always and add on.
Responsibilities of Piping Engineer
Piping design engineers involvement starts right from the plant feasibility study and then to detail engineering study and remains till commissioning of chemical plant.
Study of process requirements and site conditions to prepare equipment layout and complete pot plan.
Co-ordinate with civil and structural engineers to finalize pipe rack, platforms, foundations and other structural requirements.
Provide support to all purchase activities and evaluate all vendor documents for technical requirements.
Analyze all mechanical data sheets (MDS) and develop required mechanical drawings like nozzle orientations, support clip drawings etc.
Preparation piping layout and isometrics adhering to process requirements, erection, operation-ability, maintenance and safety.
Preparation of piping material specification (PMS) and valve material specification (VMS).
Preparation and regular updation of material take off (MTO) as per changes in piping layout and process piping and instrumentation diagram (P&ID).
Review the vendor supplied documents like pump drawings, skid plan, equipment data sheet etc to ensure piping requirements are fulfilled.
Stress analysis of stress critical lines and support marking for all the isometrics. Ensuring sufficient structural members/pedestrals are in place to place all the piping supports.
Co-ordinate with structural and equipment departments for handling excess loads and structural members and equipment nozzles as an outcome of stress analysis.
Verify the requirements of high point vents and low point drains more than specified in process P&ID to facilitate the hydrotesting.
Assisting site construction team for any field raised issue by providing immediate solution.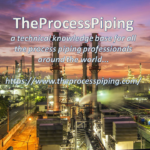 a technical knowledge base for all the process piping professionals around the world…